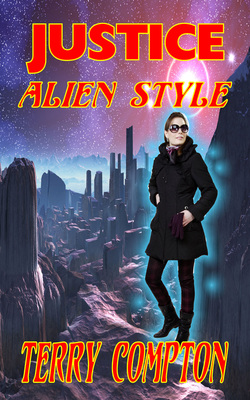 Chapter 1


Jessie Lavin's hand reached for her concealed blaster. The noise coming from
behind her drew closer.


Why in the world didn't I take Xator's advice and wait until tomorrow? This
planet is just too creepy. That shadow, I can go invisible and get out of here.
How come these stupid people take so long to give us a permit to use the
ShapeShifter vehicle? I could've made any shape I'd have wanted and then been
long gone out of here with it.


The planet's first moon lay deep in the evening sky while the second had
barely cleared the horizon. This combination made enough greenish light to see,
but cast deep shadows in places. Jessie tried to keep a steady pace as she
headed for one of the darkest spots. A slight breeze brought a whiff of the
alien planet. She shook her head at the strangeness.


The smell of the planet told her how she had long since left Earth and the
Alcantaran Key where she had been staying. Grandpa Ron Calvin had found the Key
when he, Gus Ghaolh and Tik Michi were escaping from a slew of Bug warships. The
Key had contained an untold wealth of advanced alien technology. Her spaceship,
The Gifion, had come from there.


The streets were jarringly alien with their curves and arcs, nothing like the
straight lines in Montana. The buildings also gave an eerie feeling. They were
taller than anything in Kalispell but it was more than that. A riot of colors
lay under the surface and the designs evoked the surreal image of something
painted by a deranged artist. The buildings' faces looked like they should be
textured but instead, felt smooth.


Multiple sets of footsteps behind her set her heart racing even faster.
Reaching the shadow, she stepped close to the building. Easing up to its smooth
surface, she turned to see if she could spot her pursuers. Nothing showed. She
set her shield to invisible and waited.


As she waited, she called The Gifion, "Gif, I've got someone behind me. Can
you see who and how many?"


"Jessie, I see five just around the building. They appear to be waiting for
fifteen more that are five blocks over. From their clothes, I would surmise that
they are one of the gangs. Do you want me to have Xator or Steflora bring the
SS?"


"No, either one would say 'I told you so' until I'd be sick of it. If I can
just get a few more blocks, maybe I can find a stupid cab. Besides, we don't
have all the permits yet."


"I could send Kayla. She would escort you and not tell you 'I told you so.'"



"That would be all I need right now. If I did find a cab, they wouldn't let
her in. I don't need any more trouble. We have to score a decent trade. Three
flops in a row may make Grandpa pull us back to the Key. How did he, Gus and Tik
make it look so easy?"


"Jessie, you need to get out of there. Another group is moving in your
direction."


"Where are they?"


"Down the block and to your right. Get moving and I'll direct you away from
both groups. This group is Madari. They are armed."


"I thought it was illegal to carry blasters here."


"Aren't you carrying one?"


"Yes, but Grandpa always says not to go anywhere without one."


"The Madari aren't armed with blasters. I think they are projectile weapons.
The gang behind you has the same type of weapon. Both groups are highly stirred
up. What did you do?"


"I met with an agent to try to arrange some trades. I got a couple of names
that might turn this trading trip around. I just left his office. Those stupid
union cabs wouldn't come into this district after 6:00 – I guess they would, but
they wanted five times the normal fare. It goes against my grain to pay that."



"Move it girl. I'll see if I can distract the two groups."


Jessie walked quickly to the end of the block and turned left. She tried to
move as quietly as possible. She didn't even make it halfway before she heard
yells and then gunfire.


She kept her shield set to invisible and ran. The gunfire stopped but the
yelling became louder. As she passed the next corner, she glanced to her left.
People milled around, drifting down the other street toward the noise she had
just left.


Gifion said, "Jessie, you've got to get completely out of the area. There's a
full-fledged riot starting back there. Both sides have swords, clubs and I don't
know what all."


"I'm running as fast as my legs will carry me. I wish I hadn't been so cheap.
Why couldn't I be in a taxi right now?"


Eerie wails signaled police on the way.


People in doorways looked at the sound of footsteps with nothing making them,
but Jessie didn't slow down. At last, lack of breath forced her to slow to a
walk.


A shadowy figure ran out of a cross street right in front of her.


The Ashima native smashed into Jessie. They both crashed to the sidewalk. The
man scrabbled around on his back, trying to find his attacker. His hand grabbed
something under his robe. Jessie strained to control her breathing so he
wouldn't hear. She tried to ease to her feet.


Standing, she eased back away from the man. Her foot came down on some trash,
making a slight noise. The man lunged at the noise with a strange large knife in
his hand. Jessie reacted like she had been taught by Hammurabi 'Ham' Aal Taher
without thinking.


A slight twist, a thrown hip and the man flew over her. She clung to his
wrist and heard the bone snap. A shriek started but stopped as he hit the
sidewalk. The fall dazed him but Jessie followed up as she had been taught. Two
quick blows and the man lay unconscious.


The knife slipped from his unfeeling fingers. Jessie picked it up, looking
around to see if the man had any companions. Seeing no one, she wiped a sticky
liquid on the man's clothes. Looking around, she couldn't see any place to
dispose of the knife so she tucked it in her belt.


As she turned to stride away, Gifion asked, "Jessie, what are you doing? Did
you kill that person?"


"No, he ran into me then decided to try to put a knife blade in me. I took it
away from him. Thank the One God, Grandpa forced all of us to take those martial
arts lessons from Ham. I don't know what…"


"But girl, you're invisible. I'm only able to track you from your beacon."



"Oh. I guess I am. I forgot when that knife came for my chest. Still, that
jerk tried to slice me up. He won't be doing that for awhile. I'm sure I broke
his wrist."


"You need to quit messing around. My other sensors show that it's not only
the police but the Army showing up. This government is so shaky they can't
afford for anything to get started. They could topple and then there would be
anarchy."


"Messing around? I just – oh, never mind. I'm trotting again. Does that
satisfy you?"


"I think I need to make Steflora aware of your predicament. This looks
serious."


Jessie said, "Wait a little longer. I'm on the way back to the spaceport now.
If I can make it another five or six blocks, I'll find some public
transportation."


"OK, but I want you to know, I don't like it."


Jessie kept to her trot. Two blocks ahead she could see lights in the
main part of the city. Behind her an ominous noise of a fighting crowd grew. She
slowed again to get her breath. I'm going to
start an exercise program first thing tomorrow. This is crazy. I feel like I've
run a marathon.


Half a block in front of her, Army vehicles stopped in the street. Alien
soldiers jumped out, pulling equipment from the back. Jessie saw beings that
walked on three legs instead of two like her and stood a foot taller than her
five foot two inches. Their heads were larger and not round like a human. Two
rounded ears, which looked like small funnels, sat on top of the arc of an
elongated skull with no jaw. Large round eyes sat midway down on each side of
the fourteen inch skull. An eight inch long flexible snout made the head look
outlandishly stretched out. The snout moved erratically as the soldiers talked.
Jessie judged the skull to be fully eight inches wide.


Their wide chest and thick arms bespoke power. They carried their weapons
with an easy familiarity. The quick movement and coordination told of a
well-trained group. She saw most of the soldiers were either black or brown.
Remembering most of the gang people had been purple, she wondered if they were a
different race.


What color are the Madari? Maybe that's what all this tension is about.
Different races vying for the same land and goods.


Additional armed soldiers leaped from the vehicles as she watched and placed
protective barriers across the street. As soon as the barriers were erected,
they moved behind them.


Jessie stopped and moved against a building. She watched to see what else
they would do as her breathing and heart rate started to drop.


When she thought her breathing was close enough to normal so it wouldn't
attract attention, she sidled toward the soldiers. She slipped between two of
them and then dodged others as she worked her way closer to the lighted part of
the city.


Two blocks away, she could see clusters of Ashima natives going about their
business. As she drew closer, Jessie could see their eyes darting to the
soldiers and then away. Squads of six soldiers moved along the brightly lit
sidewalks.


Gifion called Jessie, "You're going to have to get a hidden spot to become
visible. If you just show up, someone will notice."


"I know that. I'm looking for a place now. What's happening back there?"


"Fighting between at least three factions. It seems to be growing. I can see
the Army sealing off the outside perimeter. They are bringing up armored
vehicles now. I think they'll deal very harshly with those fighting."


Jessie snorted, "As long as I'm not involved, I don't care. I just want to
get back on board, get permits and then go check out these leads. You haven't
told Steflora yet, have you?"


"No, but I should. She might have ideas for you."


"Just a little longer. I'm almost to the point where I can find a cab."


Gif stated firmly, "OK, but not much longer."


Jessie walked a little faster. Spotting a nook leading to a doorway, she
ducked inside. Looking around, she didn't see any obvious security cameras. The
inside of the building appeared dark through the door so she became visible.



She left her shield up as she edged to where she could see the street. It was
empty but the cross street ahead had foot traffic. When she thought no one might
notice, she calmly walked out of the nook. Heading to the foot traffic, she
started to relax a little.


Turning the corner, she followed a group of natives along the street. Several
people she met glanced at her then quickly looked away. They moved as far from
her as they could.


Jessie started looking for a cab to hail. All she wanted now was to get back
to Gifion. She slowed to look both ways but didn't see any cabs. She did see a
squad of soldiers on the sidewalk across the street and one squad following her.



Nervously, she looked ahead. Here came another squad.
What do they want? Are they
looking at me? Should I run and go invisible? No, stay calm. Just walk as if all
you are doing is looking for a cab.


She moved on, trying to spot a cab while keeping an eye on the soldiers
ahead. When they were fifteen yards from her, they suddenly spread out in a
semi-circle in front of her. Jessie heard traffic in the street stop, but she
didn't turn her head to see why. The sight of the soldiers in front of her
bringing their weapons up to point at her made her freeze. The sound of trotting
footsteps behind didn't ease her mind any either.


One of the soldiers said, "Star trader, please raise your hands. Do not make
any false moves or we will shoot."


Jessie, too shocked to know what to do, stood there with her mouth open. Her
hands started to move up then stopped. Her anger started to bubble. She said,
"Why do I need to raise my hands. Are you trying to stop the star trade?"


"No, we just want to know how you came to have that Zofia knife. Would you
know anything about the riot that is now happening? Could that knife have
something to do with it?"


"What riot? I just came from a meeting with a broker about some trades. You
can ask him. As for the knife, a man ran into me and dropped it. I picked it up
because I didn't want some kid to find it and get hurt."


The man looked skeptical. He reached up to touch his ear. His eyes weren't
focused on Jessie as he concentrated on something else. Jessie moved her feet
and weapons menaced her even more. The soldier said, "I think you better come
with us. My Captain has a few more questions for you."


"Where are we going? I have business to attend to. Tell me what this is all
about."


"My Captain will explain everything. Please surrender the knife. You, search
her and take it."


Jessie's temper flared, "No. You won't touch me. If you even come close, you
are declaring war on the Alcantaran Ghosts. Do so at your own personal risk."



"Ah ha. You admit you are a spy. Here to cause trouble."


"I am not a spy. I am only under the protection of the Alcantaran Ghosts.
Cross them at your own peril."


"And what will these Ghosts do? Scare me? Go clank in the night? You and you
search her."


Jessie stood still, fuming inside, afraid to test her shield against so many
blasters, even if it was the newest voorwarp unit from the twins. The two
soldiers came forward just as Jessie extended her shield. The two grunted as
they ran into it.


They held their hands out feeling the surface. One used the butt of his
blaster to hammer against it. She said, "Sarge, she has a force shield or
something around her. We can't get close."


Sarge's eyes narrowed as he stared at her. His weapon twitched like he wanted
to try blasting her but seemed to think better of it. Jessie brought up her arm
with the Mis'stear computer on it. She aligned it up to take a video of the
soldiers.


The sergeant loudly asked, "What are you doing. Is that a star trader
weapon?"


"No, just a computer with a camera. I want to get pictures for the Ghosts.
I'd hate for them to exact their revenge on some poor innocent soul."


Hands flew as the soldiers covered their faces. Even the sergeant found a
scarf to cover his. Jessie said, "Too late, I already have you recorded. You'll
talk like a child offered a candy bar when the Ghosts get you."


Jessie turned a little to take video of the soldiers behind her. Twelve more
soldiers stood there. They all quickly covered their faces. Finishing, she
dropped her arm.


Steflora mentally interrupted her thoughts, "Jessie, are you alright? Are
those soldiers threatening you?"


She mentally answered, "I'm fine. They just want to take me in for
questioning. What should I do?"


"Go with them. You don't have anything that would cause problems, do you?"



"You mean like my blaster?"


"Oops, keep your shield up. Don't let them search you. We'll track you and
come get you out."


The sergeant made up his mind, "Are you going to let us have that knife and
search you?"


"Nope. But I will go talk to your Captain. I want to see if he cares about
star trade or if he wants this planet sealed off."


The alien turned gray at her quip. He murmured for a few seconds into his
left sleeve then waved the two other squads on their way. Gesturing at his
soldiers, he moved them in around her. This forced her back against the
building.


The five soldiers kept an eye and a weapon on her while the sergeant watched
down the street. In a few minutes, a large vehicle dropped from the sky beside
the sidewalk.


The sergeant made an opening in his squad, pointing at the back of the
vehicle. Jessie nervously walked between them and climbed into the back. Hard
plastic benches lined three of the walls. She moved next to the cab and sat
down. The soldiers followed her and sat against the walls.


The alien sergeant shut the door, leaving them in semi-darkness. A slight bit
of light came in from two small windows on the door. Jessie saw that the
soldiers didn't relax, but at least they weren't pointing weapons at her.


She tried to strike up a conversation but none of them would answer. She
finally gave up. Instead, she called Steflora, "Are you following me? Gifion
won't lose this vehicle, will she?"


"She has two remote sensors following. She also told me about the native you
– ah – disarmed. Do you think he's still alive?"


"Gifion should be able to tell from her sensors. She had a chance to get a
good look."


Steflora irately said, "I'll check it later. What were you doing out there?"



"Following a lead on some trade items. I've got a name and address that could
lead to our big break. After all, I'm supposed to be the trade expert on
Gifion."


"But we don't have a permit yet."


"I know. I didn't intend to go out there. I was on my way back to the ship
when things started happening. Can you tell what's happening in the city?"


"Gifion says the Army is tightening its noose on the trouble. They are using
some sort of gas that is knocking rioters out. What caused that?"


"I don't know. I know someone followed me from Muzzorci's office. Gifion
warned me about some Madari coming. I ran, then heard gunshots behind me. I
didn't stay to find out what it was all about."


"Hmmm. I'll have to talk to Gifion more later. Right now, get ready to land.
Looks like you're over some sort of base. We'll follow as close as possible to
see where they take you."


Jessie felt the vehicle bump as it hit the ground. Soon the sergeant came to
the back and opened the door. After the soldiers moved out, the sergeant waved
at her to step out. When her feet hit the ground, the soldiers formed up around
her. They followed the sergeant into a large building. Marching down the hall,
he led them to a room at the end. Opening a door, he ushered Jessie in.


The room had four cubicles inside, two on each wall. Each cubicle contained a
bed, sink and a depressed area in the floor. The sergeant pointed to one of the
cubicles on the outside wall. When Jessie stepped in, he said something on his
comm unit and a shimmery wall sprang into place behind her.


The sergeant grinned mockingly, "Try to get out of that space trader. It will
teach you some manners."


"Naw, I'll just stay here. I think it'll be safer. Keep looking over your
shoulder for the Ghosts. They'll catch up to you in just a bit."


The grin left his face. He stared at her for a minute then said, "Nice try. I
don't believe in Ghosts. This blaster handles anything I'm afraid of."


Jessie just smiled at him and sat down.


Chapter 2


Steflora turned to Xator, "Did you know about Jessie going to see the
broker?"


"No, I knew she had found something to check on, but I had no idea she would
go out at this time of night. Do you think she'll be alright?"


"I don't know. I wonder if I should call Ron or your dad. They should know…"



"NO! Don't call yet. If the Army releases Jessie later tonight or tomorrow,
you'll just stir up trouble for nothing. We need to figure this out. We've got a
cargo bay full of robots, Fen Avholog spices, as well as tea and honey from
Earth. We can move this stuff, Steflora. Just give it a little time."


"I don't know. We aren't a Ron, Gus and Tik. They have the knack. I don't…"



"We don't either. That's the point. We need to get some of the other crew
members stirring. They have a stake in this, too. The more we make trading, the
bigger their share."


"But they're crew. We're the officers…"


"So, what's your point? They are part of this ship and need to start pulling
their share of the load. Send half of them out tomorrow to look for things that
would sell back on Earth or Uyoki or wherever."


"OK, I'll let them know in the morning. Where's Dale? Maybe he can tap into
some of the video feeds around the city to see what's going on. He might need to
do something to help Jessie later."


"I'll go get him. You work on what you're going to tell the crew tomorrow."



Rahlda rubbed his eyes with a thumb and a finger. He stared at the assassin
sitting in front of him, his pale lavender skin covered with ugly purple
splotches. Anxiety and embarrassment caused more to pop up as Rahlda continued
to stare. The assassin squirmed in his seat.


At last Rahlda said, "You expect me to believe a Ghost knocked you down,
stole your Zofia and then knocked you unconscious? I suppose you want me to take
your word about the other, also. There's nothing on the news about it. Why do
you think that is?"


Dagda stuttered, "I – I'm – ah, I don't know. Maybe they don't know yet. Your
people and the Pazhou are clashing right outside the building. The Army has
everything in that area shut down. Maybe no one knows."


"Maybe and maybe you're lying. You don't get your pay until I have proof and
the information I sent you for."


Dagda's eyes squinted and his lip curled, "Don't think you'll get away with
not paying me."


Rahlda chuckled, "What is a one armed assassin going to do?"


With a blur of movement, Dagda stood behind the priest. A dagger in his left
hand touched the Madari's throat. Dagda said, "A one armed assassin might just
cut your head off and leave it as a reminder for your successor to pay his
bills. Would you like to reconsider the payment or would you as a high priest of
the Madari like to meet your Bibi?"


Rahlda gulped and very carefully kept his hands touching his desk. He said,
"My standing in this religious order has nothing to do with it. Do you think I
should pay you for half a job? Do you have the information you were supposed to
get?"


"The Pazhou showed up before…"


"That gang is nothing but trash. Anyone with a little grit should be able to
sweep them out the door. Do you have it or not?"


"No, but I have part of it and an idea who might have the rest."


"Get it and I'll pay you."


Dagda slowly released his hold and slid the dagger into a hidden sheath. He
strode to the door, "I'll be back. Have my money ready."


He slammed the door on his way out.


Stuheil walked around the room with his hands behind his back. Two followers
dressed the same shadowed him, but stayed slightly out of his reach. Stuheil
stopped in front of one of his wounded gang members. His brow furrowed and his
arms swung to his sides. The woman being treated for her injuries grimaced.


When the medic finished and moved on, Stuheil said, "Yudor, what happened?
Did you get the information?"


"Part of it. I might know…"


She winced in pain as Stuheil grabbed her wounded arm. He cruelly squeezed it
until Yudor writhed in agony. Releasing her, he asked, "Why don't you have it?
You know I don't like failure."


"We were just about to get the rest when the Madari attacked us. I tried to
send two of my troop to catch her, but the Madari killed them before they could
slip by. As soon as I can get out of here, I know where to look. I'll get the
information."


"You'd better. You lost too many people without getting the information or
doing that much damage to the Madari. I might have to look for a new troop
leader."


He glared at her and the wounded woman paled.


Stuheil asked one of his followers, "How many Pazhou members do we still have
out there? What is the Army doing? I need some answers…"


He walked off, directing the two to find answers and get the gang members
moving out of the Army's way.


Calix, sitting in his office in the spaceport, stared at the other man's
image on the view screen. On another screen, he saw movement around the
spaceships sitting there.


His narrowed eyes and scowl bespoke of his anger. "What do you mean you
couldn't get the information? Weren't you right there?"


"Yes, but…"


"But what? Did Muzzorci raise the price? What did he say?"


"I didn't even talk to him. I slipped in while he was in the outer office,
but I couldn't find the information. He was talking to a space trader."


Calix hissed in disapproval, "Which space trader? Is someone trying to go
behind my back?"


"One of them from the latest ship. It was a female."


"Stupid females! Don't they know that star trading is a man's world? Do you
know which female? Can you find her?"


"If she got out. The Army has the entire area sealed off and they're closing
in to the center of the trouble. If a space trader is in there, they'll wind up
in jail."


"Hmm, I know someone at the Army jail. I'll have to – oh, never mind. You see
if you can find her. I want that information."


I'll teach those cursed star flyers. Who do they think they are to cut me out
of my share of the trade?


"She's where? What's she doing there?" Ron Calvin's angry bellow could be
heard through half the spaceship. "Pete, I'm trying to keep my hands off and let
Steflora have a chance but…"


"I know. Give them some time. Your granddaughter is in no danger right now.
If we butt in, I don't know if they'll ever get to working as a team. Why do
you, Gus and Tik work so well together? Do you think it might be because you had
so much trouble to start with?"


"We had a common goal to get away from the Bugs. Then we kept the common goal
to smash them every time they slithered in."


"Maybe these three need a little adversity to bond. Xator and Jessie are not
too bad, but they still don't think about working with each other. They do their
own thing."


Ron's red face still showed the anger, "If they try to interrogate or do
anything that could bring harm to those girls, the wrath of the Alcantaran
Ghosts will come down on that entire planet."


Gus walked into the situation room, "What's all the hollering about? I could
hear you clear down in the atrium."


"Jessie's in jail and her two co-captains don't know what to do."


Gus made two fists, "Do we need to make a run?"


Pete pleaded, "Give them a day. You can always time jump to get there
whenever you need to. Steflora and the other two have got to work together."



Ron said, "We'll wait – but not patiently. Let us know about
any developments."


Pete looked relieved, "As soon as Gifion passes me any information, you'll
have it."


Jessie sat on a bunk, fear and anxiety wresting with anger for the
dominant emotion. Three hours
they've kept me in here. I should phase out and go smack a couple of these
idiots. No, I can't. We aren't supposed to let anyone know about us being able
to phase. She took a deep breath then
settled back to wait some more.


An hour later, she tried her comm. Something about the force field stopped
it. She mentally reached for Gifion. "Gif, can you hear me? What's going on?"



"I hear you, Jessie. Steflora has Dale trying to tap into their camera system
from the streets. She's a little concerned that the Army may try to look at it
and see that hooligan go flying. You said you picked the knife up after the man
ran into you. They won't see that on the camera."


"Oops! I hadn't thought about that. Is he making any progress? Does he think
he can doctor the video without it being evident?"


Gif said, "He doesn't know until he gets into the system. Hang tight. We
won't leave you there."


"Thanks, Gif."


Jessie sat back, trying to relax. She pulled up a book on her computer and
attempted to concentrate on it. After spending ten minutes staring at the first
two pages, she gave up. Her eyes roamed around the room.


On the ceiling, she saw four cameras pointed at the different cells. She
searched further and found microphones at various locations. Anger at being left
alone for so long inspired her to try something.


Projecting her book again, she used the voorwarp unit to reach out with her
mind for the bed in the cell across from her. She felt the lump at the end that
was supposed to be a pillow. Poking and prodding, she tried to tear into it.
Straining, she couldn't quite get a hole made.


Using a technique Sim had recently shown them, she pulled power from the
force field itself. The surge of power let her rip the pillow almost in two.
Jessie took fibers from inside and teleported them to the microphones. She
wrapped the fibers carefully around them. When she had all of them wrapped, she
stood up and started to sing to herself.


Getting into the act, she acted like her computer was a microphone. She
belted out some verses then lowered her voice to barely a whisper. After a few
minutes of this, she mentally reached out to a hidden microphone. Gently pulling
the mike out, she unwrapped the fiber. As the fiber dropped, she then roughly
scraped the mike across the wall.


After a few seconds of that, she jerked on the mike. Wires pulled out of the
wall and soon snapped. Jessie teleported the mike out to the sidewalk she had
seen as the soldiers escorted her in.


In just moments, she heard footsteps running outside her room. The door burst
open and two soldiers rushed in. One held a weapon ready with the muzzle
wavering between her and the rest of the room while the other looked at the
walls. The first soldier went right to where the mike had been. Jessie sat
quietly watching them.


The soldier looking at the missing mike muttered to himself. The other eased
closer to hear what he said. Jessie used her telekinesis to turn the force
shield on, locking the two in the holding cell. She flipped her field off.


Jessie moved the cameras to point to the ceiling. Then she stood up. The
soldier with the weapon noticed her movement. He swung his weapon in her
direction. When he fired at her, the force shield bounced the blast of energy
back into the cell. It ricocheted around inside causing cries of fear from the
two in there. At last the blast from the weapon buried itself in the wall.


The one looking for the missing mike jerked the weapon out of the soldier's
hands. Jessie left the two screaming at each other. As she walked toward the
doors she had been forced through, she wondered if she should set her shield to
invisible. She decided to stay visible.


When she strode into the foyer of the building, Steflora stood there arguing
with a soldier sitting at the desk. "I want to see my crewmember or whoever is
in charge of this madhouse."


"I'm sorry, lady. The Captain's busy and I can't let you into the detention
area."


Jessie said, "What's the problem, Admiral Steflora?"


The soldiers eyes widened in surprise. He looked Steflora over trying to find
some insignia. Steflora said, "Jessie, what are you doing? How did you get out?"



"Some soldiers came into where I was being held. The shield dropped so I came
out here to see if the Captain really wanted to talk to me. If he's busy, he can
call and make an appointment when he has time. I need to make some calls…"


The strangling noises the soldier was making stopped her. As Steflora and
Jessie watched, he scooted his chair over to stare at a bank of monitors.
Muttering to himself, he picked up a comm unit. He talked too quietly for the
two space traders to hear. At last he turned, "Did you say two soldiers came to
let you out? Where are they?"


"They were still in an adjoining cell when I left. Is something wrong?"


A squad of soldiers trotted into the foyer. The one behind the desk said,
"Wait here please." He motioned for two of the others to stay with them. The
other four followed him down the hall at a trot.


Steflora whispered, "Jessie, what really happened?"


The soldiers shuffled nervously so the two remained quiet. A few minutes
later, the desk sergeant came back followed by the two imprisoned soldiers and
the remainder of the squad.


The desk sergeant said, "Now, what was it you wanted?"


Steflora said, "I wanted to see my crewman. Since she is here, we'll be
leaving now."


"But, the Captain hasn't released her."


"Then what's she doing out here? Is this a trick to try to drive trade off
this misbegotten, vermin ridden planet?"


"There's no trick. The Captain wants to talk to her."


Steflora gave him a stern stare, "She's been here for how many hours? Your
Captain must not want to speak to her very badly."


"He's been busy. He'll talk…"


Jessie interrupted, "Admiral, Xator says she's all ready to start
broadcasting. The word will go out that space traders aren't wanted here. As
soon as we get on the ship and leave, this planet will become off limits to any
trade from other planets."


The soldier paled, "What did you say your name was?"


Jessie piped up, "Admiral Steflora from the Uyoki Navy."


Steflora said, "That's retired Admiral from the Uyoki Navy. I'm from RTG
Traders now."


The desk sergeant said, "Just a minute. I'll see if the Captain is available
now. Have a seat over there."


The two soldiers, who had been imprisoned, stared at Jessie as if she had two
heads. One of the others stared at Steflora. One moved over and whispered
something to the desk sergeant. The sergeant whispered back and headed down a
corridor to the left.


As they waited, Steflora mentally asked, "Jessie, what do you think you're
doing? I'm not connected with the Uyoki Navy anymore. What did you do back
there?"


"You might not be active duty in the Navy, but you keep your eyes open for
them, don't you? I just adjusted their cameras and mikes. Somehow when those two
came to inspect, the force field they use for doors went up and mine shut off."



"We're not supposed to let these people know what our voorwarp units will do.
Ooh, what do you think your Grandpa would do?"


"I didn't let them know about the voorwarp units. I'm sure Grandpa would find
a way to make the Captain like us and then help."


"How?"


"I have no idea. I thought we came here so we wouldn't have to do things the
way he does. What would you do if you were still in charge of a Uyoki Navy
battleship?"


"I'd threaten these pipsqueaks around here and take my crewmen by force if
necessary."


"Hmmm, I like the idea, but I don't think we can do that if we want to
trade."


Steflora looked at her to see if she was teasing, "What did you find that
made you risk going into town at night?"


Jessie glanced around to see if the soldiers were paying any attention to
them, "Muzzorci has a seller who wants to sell plans for a power source. It
will…"


"Uyoki already gets them from Bfestig. They're a little bulky but work good."



"For how long?"


"Oh, five to maybe six years. Depends on how much power you draw."


"How much do you have to pay for them?"


"Fifteen thousand credits and up. How much for the ones you're looking at?"



Jessie smirked, "We can sell them for three thousand credits and they'll
power five to six houses for twenty-five to thirty years. A single house would
have power for over fifty years."


"WHAT! How do they do that? How reliable are they…"


"Whoa, I just found out a number to call about them. If they're good, how
many units could you sell on Uyoki?"


"At least a hundred thousand. How about on Earth?"


"I'd guess over a million. We'd double our money on these things. I could
probably sell a million on Earth at five thousand credits. That'd be four times
the money."


"Sounds fantastic. Now all we need to do is get you out of here without
having half the planet chasing you. We still have to see if the surveillance
cameras around here saw you take that local down. Remember, you were invisible."



"Dale is working on that. Xator told me. We'll come up with something."


"I just wish we had an idea of what your Grandpa and Gus would do. Maybe it
would help us here."


"I know, but I don't know how he thinks and Xator doesn't really know how Gus
would react to a situation. I know we can't wait too long or that deal will be
gone. Muzzorci said there were two others wanting to make a deal."