Welcome to terrysbooks.com
What's new
 Coming Spring 2015.  March 25, 2015 It's almost finished, then off to editing.
Book 4 in the Wanted Series
 
    No good deed goes unpunished.  Josh Gunn and his partners were finding this axiom very true.  They had control of the sex slave pleasure palace but it contained a spaceship load of problems.  Before they could sort them out, the president of the Charter Alliance called with a job for them.  If they didn't comply, would she guess that they controlled the ship?  That could lead to criminal charges and the Charter Navy searching for them along with slavers, pirates and a crime lord.
  It's here.  Live on Kindle.com, Smashwords.com and other retailers:  Wanted  The Trap.  To celebrate, Wanted  (the first in the series) will be

free

for a limited time.  Get your copies now and tell your friends.
 Book 3 in the Wanted Series.

   The trap is in place but it moves into action before Josh Gunn and his partners are ready.  Now they are playing catch up to save thousands of slaves and capture the deadly head of the slaver ring.  Old friends step in to help but even they may not be enough.
 Book 2 in the Wanted Series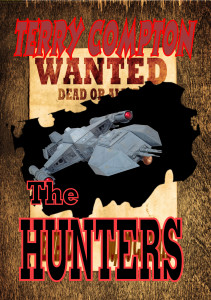 Josh Gunn and his partners trailed the sex-slavers to Vadir, a planet on the edge of nowhere.  While searching for the villains, a local gangster steps between the trio and their quarry.  The delayed hunters struggle to overcome this obstacle to hunt down their target.  Failure means thousands of sex-slaves could be lost forever.  One misstep though could mean their lives.