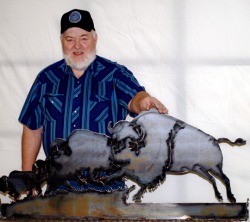 If you have questions, comments or suggestions, the easiest way to contact me is
terryscreativewriting (at) centurytel.net
.
Terry has worked the last 14 years at his own business Montana Iron Creations, Inc. Having raced stock cars, rode horses across the Scapegoat Wilderness, fished and hunted most of his adult life while working at several different jobs to pay for these hobbies, he decided to try his hand at writing. Adventures and experiences during these times help color his characters' reactions to given situations.
He is an Air Force veteran and served in the Air National Guard for several years. Currently, in his ornamental iron business, he is the owner, chief welder and installer. Terry has made several award winning metal creations, but his body keeps telling him he isn't twenty-five anymore.
So he's now turning his creativity to writing. He keeps practicing to improve his craft and hopes that he has entertained readers with his stories.

He currently lives in Montana with his wife and a small dog who insists she is a short furry people.
---